After a difficult year, local college art galleries are gearing up for a fall full of visitors and new exhibitions | Fall Arts | Spokane | Interior of the Pacific Northwest
Visit an art gallery in person is a once-in-a-lifetime experience – observing each individual brushstroke on a painting, seeing the colors and intricacies of an artwork in a way that online photos can't do justice, feeling that rare serenity that comes when you walk around in space and you take it all.
There are plenty of local universities and community colleges with their own galleries, and they're all gearing up for a somewhat normal year, with real, real, in-person visitors.
At Gonzaga University's Jundt Art Museum, two exhibitions this fall semester feature works entirely from the museum's permanent collection. In the Arcade gallery, there is Staying Home: Interior Views of the Jundt Art Museum Collectionand in the Jundt gallery there is From the collection: Art in the 19th Century. Both exhibitions run until December 31.
Jundt director and curator Paul Manoguerra says the unpredictability of COVID-19 prompted the decision to focus entirely on the museum's permanent art collection, which reduces uncertainty and removes the need for contracts and contracts. possible closures and reopenings of traveling exhibitions.
Stay at home features artwork that focuses on interior spaces, whether it's the artist's interior space or another interior space entirely. 19th century art is pretty self-explanatory – all of the artwork in the exhibit is from the 19th century, and the exhibit accompanies a course on the same subject that Manoguerra teaches.
"I love museums because museums are about the real object, and the real thing, and if we ever get to something that feels like post-pandemic, which I hope we will, I have the feeling that people are going to get tired of the virtual, and museums in general can be one of the places where you can have an authentic experience, to see the real thing again," says Manoguerra.
Mirror Mirror: The Prints of Alison Saar.   " class="uk-display-block uk-position-relative uk-visible-toggle"> Click to enlarge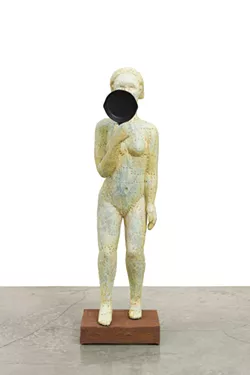 At Washington State University, the Jordan Schnitzer Museum of Art WSU has two main exhibits open to the public this fall: Mirror Mirror: The Prints of Alison Saarand the Black Lives Matter Artist Grants Exhibition.
Saar is an artist based in Los Angeles, and her exhibit includes nearly 50 prints and five sculptures, which trace the history of the African American experience in America, says Debby Stinson, head of marketing and public relations at Jordan. Schnitzer Museum. Mirror Mirror is open until March 12.
The Black Lives Matter Artist Grant exhibit was created from a statewide call for artists that was narrowed down to 20 artists who created work for the show. Jordan Schnitzer, the museum's patron, donated $50,000 to each of his three namesake museums, which went to the grant, Stinson says. The Black Lives Matters exhibition will run until December 18.
Artists in the Black Lives Matter Artist Grant exhibit are using their voice and artistic expression to engage in social justice efforts in response to systemic racism, says Ryan Hardesty, curator and director of the Jordan Schnitzer Museum, via email . In addition to the two exhibitions, there will be a vernissage with the artists and Jordan Schnitzer on September 28 at 5 p.m. at the museum, a tour of the exhibition with Saar (September 29 at 2 p.m.), and an intergenerational Black Lives Matter discussion (Sept 29 . at 3:30 p.m.).
"We model our institution as a teaching museum, a welcoming space where our communities can engage, learn and grow together from today's most pressing issues," Hardesty said.
At Eastern Washington University, the fall lineup includes two exhibits, a biannual faculty exhibit and a two-person exhibit titled On the Edge: Living the Anthropocene, with artists Ann Chadwick Reid and Natalie Niblack. Joshua Hobson, new gallery director at the EWU Gallery of Art, says he's excited to take the reins, and he wants to work to increase audiences and make the gallery a space for learning.
The faculty exhibit allows faculty members to bring whatever they have worked on over the past few years, whether their work is related to the subject they are teaching or not, and show it to the gallery, said Hobson. The show will run from September 29 to November 4.
On the edge showcases artwork that responds to climate change. Reid's works are intricate works on paper that examine the beauty and balance of ecosystems and their plight, while Niblack's pieces are large, deeply saturated oil paintings depicting forest fires, Hobson explains.
"Given the summer we've had and the kind of record-breaking wildfire season we've had summer after summer recently, it's very timely work," he says.
At Whitworth University, the Bryan Oliver Gallery is holding an exhibition titled Supersonic September 14 to October 29. It features a collection of new drawings by Seattle artist Kayo Nakamura, says gallery director Lance Siennema. Supersonic will be followed by an exhibition of works by Pullman artist and illustrator Jiemei Lin, which will run from November 9 to January 21.
Spokane Falls Community College is also gearing up for fall exhibitions, as well as workshops with the artists whose work will be exhibited at the SFCC Fine Arts Gallery. The first exhibition will be a series of photographs entitled Travel by June Roys, an SFCC faculty member who teaches graphic design, says Cozette Phillips, incoming gallery director at SFCC. Travel will take place from September 21 to October 20.
SFCC is also hosting an exhibit of the multimedia collage works of North Hollywood artist Len Davis, Phillips says. The exhibition will run from October 25 to November 23 and will include an opening reception and a mixed media workshop.
Although the Prichard Art Gallery at the University of Idaho recently closed due to funding cuts, a new nonprofit gallery called Moscow Contemporary has been opened by Roger Rowley, the former director of the Prichard, explains Sonja Foard, former assistant director. On September 17, Moscow Contemporary, in collaboration with the Prichard and the City of Moscow, will open the Palouse Outdoor Exhibition.
All local art galleries have faced challenges from complete closure due to COVID-19, and while many have pivoted quickly and started online programming, exhibitions or artist talks, having to new visitors to the galleries is something everyone says they look forward to in the coming year. ♦