Art galleries and cultural centers devastated by the floods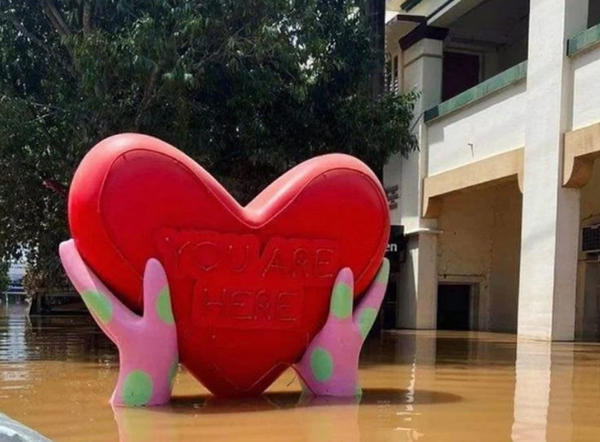 Art galleries, museums, cultural centers and organizations across Queensland and northern New South Wales have been significantly impacted by the recent and ongoing extreme weather event, many of which have been inundated with water of flood.
At its peak, the Wilsons River at Lismore in northern New South Wales peaked at 14.4 metres, causing the worst flooding in history and rising so high that the Lismore Regional Gallery has flooded while nearby spaces such as Northern Rivers Arts and The Northern Rivers Conservatorium were also severely flooded. .
Lismore Regional Gallery shared via Facebook "we are heartbroken for Lismore and our Northern Rivers community. Our hearts go out to the amazing SES and the volunteers who continue to rescue our friends and loved ones – thank you. The Lismore Regional Gallery is completely inundated by the flood, as is most of the Lismore. It will be a long road to recovery. The gallery will be closed until further notice. For now, stay safe and dry and take care of each other.
Ashleigh Ralph, director of the Lismore Regional Gallery, told ArtsHub "from the footage we've seen, and knowing the height of the flood, we can see that the water has passed over the second floor of the gallery, about two meters away, which would have flooded our entire pre-package of space.
"In the previous flood, the top floor didn't flood, but this time it did. We had everything on the top floor, which is now gone. So that's our collection, that's art from exhibits that were on display, including the war rugs from Afghanistan, that's Cabinet Hannah. That's it," she said Tuesday.
Ralph noted that she had not yet spoken with the gallery's insurer; she also wasn't sure how long it would take to be able to enter the building and inspect the damage. More importantly, she noted that her team was safe and taken care of.
NORPA, a theater company based in Lismore, said: "We do not yet know how this flooding has impacted NORPA and Lismore Town Hall and we will stay in touch as we determine our next steps. . These next few weeks will be extremely difficult for our region. Many thanks to SES and the amazing volunteers who braved these conditions to rescue those stranded at home – we are so proud to be part of this truly amazing community. Just like the rest of the Lismore CBD, NORPA and Lismore Town Hall were completely inundated with water.
Arts Northern Rivers, the region's flagship body, is based in Lismore and represents all of the creative industries from Tweed Heads to Grafton. Their executive director, Jane Fuller, told ArtsHub "we are devastated because we lost everything in the floods: all our office equipment, our books, our furniture, the land… We are uninsured – like many here in the region, flood insurance can be at a minimum of $30,000 per year: simply unaffordable for the arts sector.
Arts Northern Rivers is already considering its next course of action with Fuller advising "This region has recently experienced a series of devastating disasters including the 2017 floods, 2019 fires, 2020/21 pandemic and now the 'Mega Flood'. "from 2022". How to move forward? We collectively tire of the word "resilience".
"Arts Northern Rivers is forming a policy and action response to help – we need ministers to come forward: state and federal. Arts and regional. To hear us, believe in us and in the future.
Meanwhile, in southeast Queensland, which received a month of rain in a matter of days, the Queensland Theater and galleries like QAGOMA, located along the Brisbane River, have been closed since 27and February along with a number of other galleries temporarily closed due to flooding and extreme weather.
The Queensland Theater had absorbed a significant amount of flood water with power and telephone lines cut. Publication on social networks on the 28thand In February, they shared "I hope the worst of the hustle and bustle is behind us, but we are still not ready for guests… At this point we are unable to re-enter the building, but we will be sure to let our community know if we need help cleaning up in the coming days. Our hearts go out to everyone whose homes and businesses have been flooded."
Amanda Jolly, executive director of the Queensland Theatre, said floodwaters flooded the ground floor of their building, affecting some offices, the foyer, the Diane Cilento studio, the Bille Brown theater and many backstage and performance areas. surrounding storage.
Art Guide has listed the following galleries and organizations as impacted
queensland
Queensland Arts Gallery / Gallery of Modern Art (QAGOMA)
Queensland Theater
State Library of Queensland
Institute of Modern Art
Jan Manton Gallery
Subway Arts
QUT Art Museum
Griffith University Art Museum
New South Wales
Lismore Regional Gallery
Northern Rivers Arts
spaghetti circus
Northern Rivers Conservatory
Lismore Town Hall (NORPA)
M-Arts (Murwillumbah)
While various fundraising plans from galleries and arts organizations are expected to be announced in the coming weeks, they can be supported now by donating to the Red Cross Appeal QLD and NSW Floods
The Queensland Government is proposing one-off aid payments
Top image: Holly Ahern and Eden Crawford Harriman, In the Heart (2021). Sculpture in Lismore, New South Wales. Courtesy of the artists. By Instagram. Image above Queensland Theater Courtesy Facebook
Related Articles
March 2, 2022 – Sportscover Australia is supporting East Coast flood recovery efforts with sports grants
February 28, 2022 – Football Queensland launches dedicated support center for flood-affected clubs
---
Support our industry news service
We hope you enjoy the news we post, so while you're here can we ask for your support?
As an independent publisher, we need reader support for our industry intelligence gathering, so ask – if you're not already – to support us by subscribing to the print version. Australasian Leisure Management magazine and/or our online news.
Click here to see our subscription options.