Lansing's downtown roundabout will receive a marquee art sculpture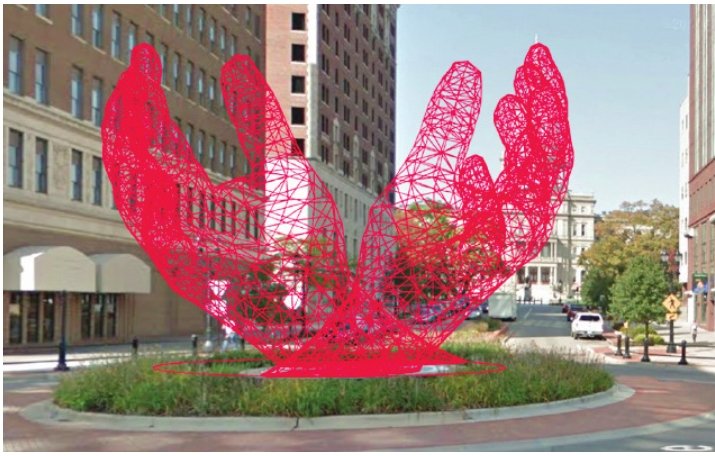 skyler ashley
After transpiring 87 proposal submissions, only four remain in the quest to find a permanent art sculpture for Lansing's downtown roundabout at Washington Square and Michigan Avenue.
The four entries: "#LoveLansing," by ML Duffy, Washington, DC; "Flame", by James Gabbert from New Mexico; "Star Born," by David Such and Fred Hammond of Lansing; and "Welcome Hands", by Mark Horst of Minnesota, await public comment as part of the Capital Region Community Foundation's "Penny for Your Thoughts" campaign.
The public can submit their thoughts online at www.ourcommunity.org/leadership/pennyforyourthinks until October 31.
Here are the four finalists:
"Welcoming Hands", by Mark Horst
"Welcoming Hands" is a creation with a wireframe look that marks Lansing as a friendly and tolerant community.
"These hands clearly make a gesture of openness and welcome and I wanted them to represent the warmth and hospitality of Lansing. I also think that every time you use steel in Michigan you evoke the manufacturing history.—Horst
"Flame", by James Gabbert
"Flame" consists of two circular rings connected by a large metallic flame. "The flame is held by two rings, which represent the two land masses of the State of Michigan: the Upper Peninsula and the Lower Peninsula. They are separate, but close."—Gabbert
"Star Born", by David Such and Fred Hammond
Star Born features a large star mounted on a similar star-shaped base. Hammond said each of the five points of the star can be adorned with a different artistic theme generated by local input.
"Lansing is one of 50 state capitals, and that's something the city should be proud of. Capitals are designated by stars on many maps, digital and physical. This is the main inspiration. – Tel "What sold me on the star, being on the more technical side, is that it is the symbol of each capital city on the map." —Hammond
"#LoveLansing", by ML Duffy
"#LoveLansing" features interconnecting metal frames with a striking red finish inside each piece. Duffy's Hearts have appeared in several other US cities.
"I had a group show coming up, which I didn't have any pieces for, I was missing my wife and I had all these new digital methods for making interesting sculptures. I decided to try things out with a heart: a simple shape with a complex meaning —Duffy